Oncoplastic reduction lumpectomy is a procedure that combines breast-conserving surgery (lumpectomy) with cosmetic surgery techniques. Plastic surgeons aim to achieve optimal outcomes in both cancer removal and cosmetic results. This procedure represents a significant advancement in breast cancer treatment because it gives patients the opportunity to undergo targeted cancer removal while also preserving the natural contour and symmetry of the breast.
Dr. Rahul Vemula, a board-certified Monmouth County plastic surgeon, is a specialist in oncoplastic reduction lumpectomy. The surgeon has a track record of success blending the principles of oncology and plastic surgery to help restore confidence and peace of mind for women facing breast cancer.
Who is a Candidate for Oncoplastic Reduction Lumpectomy?
Oncoplastic breast reduction is a type of breast reconstruction that combines a traditional lumpectomy with a standard breast reduction. This procedure may be the right choice for patients who:
Have been diagnosed with breast cancer and require surgical treatment
Have medium to large-sized breasts.
Desire both cancer removal and an aesthetically pleasing breast appearance.
Have tumors located in areas that may result in noticeable breast deformities if addressed with traditional lumpectomy alone.
Working with your breast surgeon, Dr. Vemula should be able to determine your suitability for this treatment upon evaluating the size of the tumor, breast size and shape, overall health, and individual goals.
Benefits of Oncoplastic Reduction Lumpectomy
Some of the benefits of oncoplastic breast reduction as opposed to traditional lumpectomy include the following:
Optimal Cancer Removal – first and foremost, the surgeon focuses on the effective removal of cancerous tissue to achieve the primary goal of breast cancer treatment.
Enhanced Aesthetic Outcomes – plastic surgeons not only preserve healthy breast tissue but also reshape it to restore symmetry, contour, and appearance.
Reduced Risk of Deformities – oncoplastic reduction lumpectomy minimizes the risk of breast deformities or distortions that may occur with traditional lumpectomy.
Positive Body Image and Self-Confidence – by providing excellent cosmetic outcomes, oncoplastic reduction lumpectomy positively impacts a patient's psychological well-being during and after breast cancer treatment.
WE WOULD LOVE TO HEAR FROM YOU

Doctor Vemula's Procedure Approach
Dr. Vemula takes a highly personalized treatment approach that is focused on effective cancer removal along with an excellent cosmetic outcome. Before the procedure, the surgeon and his team will conduct a thorough evaluation of your medical history and tumor localization. Imaging tests such as mammography, ultrasound, and MRI are typically a part of the pre0operative planning. Once everything is set, the procedure is performed under general anesthesia in a certified surgical facility. An incision is created to access the tumor while also minimizing the risk of visible scarring. The tumor is then removed and breast tissue reshaped to restore symmetry and contour. Throughout the surgery, Dr. Vemula will focus on employing a combination of advanced breast conserving technique while also paying attention to your cosmetic goals. Once the goals of the surgery have been completed, the surgeon will close the incisions using dissolvable suture and apply a surgical dressing to support healing. The entire procedure may take between two and four hours to complete. In some cases, nipple and areola reconstruction will also be performed during the oncoplastic reduction lumpectomy or in a later procedure.
Schedule your Oncoplastic Reduction Lumpectomy Today
Dr. Rahul Vemula is a highly seasoned breast reconstruction specialist. Through advanced plastic surgery, the surgeon has helped countless women regain their sense of confidence and femininity following breast cancer treatment. The surgeon takes each patient's case as unique and goes above and beyond to ensure the best possible outcome. Get in touch with his office at V Plastic Surgery in Monmouth County NJ to learn more or schedule a consultation today.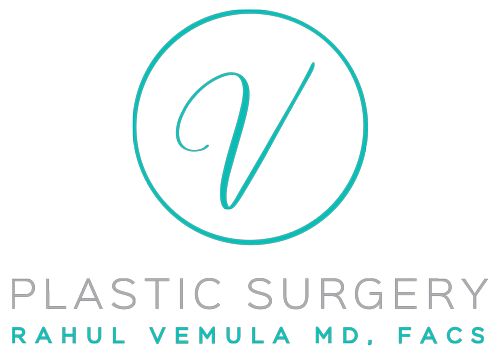 Ocoplastic Reduction Mastectomy Cost
The cost of oncoplastic reduction lumpectomy is covered by health insurance as per federal law.
Oncoplastic Reduction Lumpectomy Recovery
Due to Dr. Vemula's use of enhanced recovery after surgery (ERAS) protocols, you will have less pain and difficulties after oncoplastic reduction lumpectomy surgery.  Most patients are able to resume their regular activities within a few weeks to a few months of the procedure. Patients are usually required to wear a supportive bra to help support and shape the breasts throughout the intial phase of recovery.
Surgery Time
Surgery time will vary per patient.
Gallery
Look at our Before & After Gallery to see the amazing results that Dr. Vemula consistently delivers for his patients.
EXPLORE
Oncoplastic Reduction Lumpectomy FAQs
How does oncoplastic reduction work?
This is a procedure that combines traditional breast tumor removal surgery with aspects of plastic surgery. Usually, a breast surgeon removes the tumor and leaves healthy breast tissue intact. A plastic surgeon will then come in and reshape the breast to achieve the desired aesthetic goals (at the same time as the tumor removal).
Where is the scar from this procedure placed?
Qualified plastic surgeons like Dr. Vemula pay careful attention to the size and location of scars. Your oncoplastic reduction incision may be created around the areola running vertically down to the breast crease. Another horizontal incision may be made to enable the surgeon to effectively access the entire breast tissue.
How long does recovery take?
The recovery duration after oncoplastic reduction may range from 6 – 8 weeks. You'll be required to keep off work over the first 2 – 4 weeks and any strenuous activities should be avoided for at least 6 weeks.