Renuvion (J-Plasma) New Jersey
Renuvion – also referred to as J-Plasma or J-Plasty is a minimally invasive percutaneous surgical procedure that aims to provide gentle tissue contraction in different parts of the body.
This will enhance the results of your procedure and may provide a better appearance. Typically, plastic surgeons use invasive procedures such as facelift, eyelid surgery, or arm lift to alleviate these negative changes, but thanks to advances in plastic surgery technology, a new treatment known as Renuvion(J-plasma) offers minimally-invasive treatment to provide gentle tissue contraction to the fibroseptal network of tissue on different parts of the body. This cosmetic procedure is quick and involves minimal downtime. Dr. Rahul Vemula offers Renuvion minimally-invasive cosmetic surgery to help his patients enhance the appearance and youthfulness without invasive surgery.
What is Renuvion?
Renuvion is usually performed under local or general anesthesia. The surgeon will use a hand-held device that comprises a long and thin metal tube to administer the treatment. Tiny incision points are created via which the Renuvion device is inserted. Radiofrequency energy is used to energize the helium, which then releases a jet of plasma at the end of the tube. The device is then moved along the treatment area with the plasma heating (coagulating) the fibroseptal tissue while simultaneously cooling it. This process promotes gentle tissue contraction while also triggering collagen production for a more youthful appearance. During your visit to Dr. Vemula's office, the surgeon will explain the treatment process customized to your needs and desires.
Who is a Candidate for Renuvion?
You may be an ideal candidate for this cosmetic treatment if:
You wish to improve the appearance of your face and body without invasive surgery
Seeking minimally invasive surgery
Improve the results of prior surgical procedures
Seeking office based surgery
You are in good physical and emotional health
You have realistic expectations about the outcome of this procedure
When you visit Dr. Vemula's office, the surgeon will explain this treatment and evaluate your skin before letting you know whether it is the right fit for you. The surgeon customizes each treatment to your needs and is committed to delivering the best possible outcome.
WE WOULD LOVE TO HEAR FROM YOU
Treatment Areas
One of the best things about Renuvion technology is that it can be used to address skin laxity and textural imperfections on many different parts of the body.
Face
Facial imperfections may be caused by the natural process of aging, genetics, sun exposure, and pollutants. If you are concerned about the appearance of your facial skin, Renuvion may help address these issues and achieve a rejuvenated facial profile. Depending on your specific concerns, Dr. Vemula may pair your treatment with other non-surgical options such as injectables and dermal fillers.
Neck
The neck is often a problem area for many people when it comes to skin laxity and sagging. Renuvion serves as a non-invasive alternative to neck lift for patients who are looking to address sagging, wrinkles, and signs of aging. The treatment reveals a youthful and rejuvenated facial appearance that will leave you feeling better about yourself.
Body
Most cosmetic procedures that address imperfections in body areas are invasive. These include the arms, thighs, and abdomen. The goal of the treatment is to address skin laxity to reveal a firmer and smoother contour.
How Do I Maintain My Results?
Most patients experience some swelling after treatment. The swelling usually starts to resolve in a couple of weeks after treatment. The "tightening" effect from Renuvion will continue to improve for several months after treatment. The surgeon will provide aftercare instructions to help you care for your skin during recovery. Pain medication and antibiotics will be provided to alleviate discomfort and prevent infections. While improvements will be evident almost immediately after recovery, it may take up to 9-12 months for the final results of the procedure.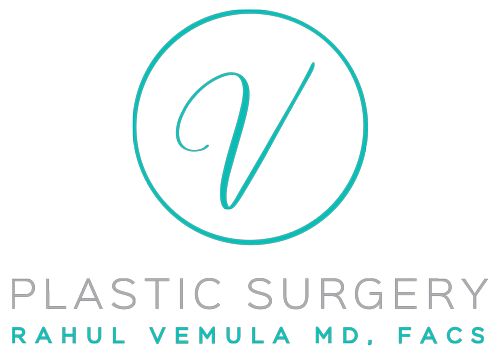 Renuvion Cost
The cost of Renuvion will depend on the specifics of your treatment.
Renuvion Recovery
Usually a couple of weeks
Gallery
Look at our Before & After Gallery to see the amazing results that Dr. Vemula consistently delivers for his patients.
EXPLORE
What does Renuvion Treat?
Renuvion is an advanced skin tightening procedure that uses advanced Helium Ion plasma technology to improve skin quality and texture. This is a highly adaptive cosmetic procedure that can help address sun damage, scars, wrinkles, and loose skin. It can help treat multiple parts of the body, including facial skin, arms, thighs, and abdomen.
Does Renuvion Work?
Renuvion is a highly effective minimally-invasive cosmetic procedure. The treatment works by eliminating stubborn fat and activating collagen production, helping shrink skin and result in a youthful and contoured appearance. Many of Dr. Vemula's patients feel more confident and livelier after undergoing Renuvion treatment.
How long does it take to see results?
Following Renuvion treatment, it may take about three weeks before you start to notice results. Your results will continue to improve with time over about 9-12 months. The surgeon will share home care instructions to make sure that you protect your skin, avoid irritation, and get the best out of your treatment.
Can you combine Renuvion with other treatments?
Renuvion is often used to supplement the outcome of surgical procedures and may be used in conjunction with liposuction and other procedures. If you want to benefit from multiple treatments in one sitting, the surgeon will listen to you and create a customized treatment plan that addresses your needs.