Gynecomastia Surgery Monmouth County
Male Breast Surgery in Monmouth County, Jersey Shore, and West Long Branch NJ
Gynecomastia – or enlargement of breast tissue in men – affects a large proportion of the male population. Male breast enlargement may be caused by hormonal changes, disease, genetics, or certain drugs such as marijuana. Although this condition is not a health risk, it may lead to low self-esteem and discomfort in social situations. Male breast reduction surgery aims to remove extra tissue or skin in the chest region in order to give male clients a more masculine and contoured frame. 
Monmouth County plastic surgeon, Dr. Rahul Vemula, helps men who feel self-conscious about excess breast tissue restore their confidence. Dr. Vemula listens carefully to your concerns and creates a personalized treatment plan that is designed to achieve your unique goals. He works with male patients from Monmouth County areas such as Long Branch, West Long Branch, Eatontown, Rumson, Fairhaven, and Redbank. He is also on call for patients from surrounding Jersey Shore areas such as Brick, Toms River, Ocean County, Middlesex County, Central New Jersey, and New York City.
Gynecomastia Surgery Candidates
Typical good candidates for this treatment are men who are 18 years or older, emotionally and physically healthy and have firm and elastic skin. In addition, Dr. Vemula shares that the ideal candidates for this treatment are men who:
Feel that their breasts are too large for a masculine frame 
Have not benefited from other medical treatments to correct gynecomastia 
Have no medical condition that may impair healing 
Are nonsmokers and do not use drugs
Have a positive outlook and realistic expectations about this treatment 
Have a relatively normal weight 
During your initial consultation at V Plastic Surgery, Dr. Vemula will listen to your concerns, examine your breasts, take your medical history into account and let you know whether this treatment is for you.
How is Gynecomastia Surgery Performed?
Male breast reduction surgery is very different from breast reduction in women.  In cases where the enlargement is mild, standard liposuction or ultra-sound assisted liposuction techniques may suffice. This involves making tiny incisions around the areola and inserting a special suction tube to extract excess fat from the breast tissue. In severe cases of male breast swelling, the surgeon will make a bigger incision and use it to get rid of excess loose skin and breast tissue. Skin tightening and repositioning of the nipple-areolar complex may be required to achieve a proportional shape. 
Dr. Vemula uses the latest surgical techniques and advanced equipment to achieve the desired outcome while minimizing the risk of scarring and other complications. Many of his past gynecomastia clients see him as a detail-oriented professional who prioritizes results and patient safety. 
Planning Your Gynecomastia Surgery
Gynecomastia surgery is performed at an accredited surgical facility under local or general anesthesia.  The procedure takes 1-2 hours to complete depending on the extent of the enlargement. Blood-thinning medication and NSAIDs (e.g. Aspirin, ibuprofen, Advil® and Aleve®) must be avoided at least 2 weeks before and after the surgery. It is also important that you completely refrain from smoking during this time. Because male breast reduction is an outpatient procedure, you may need to arrange for someone to drive you home after the surgery. 
The cost of this treatment varies depending on the extent of the gynecomastia, the surgical fees, facility fees, anesthesiologist fees, and other influencing factors. Dr. Vemula's office will provide an initial cost breakdown during your initial visit to V Plastic Surgery. Dr. Vemula works with board-certified anesthesiologists and highly capable support staff.
WE WOULD LOVE TO HEAR FROM YOU
WE WOULD LOVE TO HEAR FROM YOU

Gynecomastia Surgery
Before embarking on a surgical approach, Dr. Vemula will run a number of tests and possibly even prescribe medication to see whether gynecomastia will improve. If the condition persists, then the surgeon will work to create an individualized treatment plan to achieve your desired results. The kind of surgical technique to be used will be influenced by the severity of the enlargement. 
Working with a highly qualified plastic surgeon like Rahul Vemula, MD can greatly improve the chances of a satisfactory outcome. Dr. Vemula is double board certified by the American Board of Plastic Surgery and the American Board of Surgery. Dr. Vemula is also a member of the New Jersey Society of Plastic Surgeons, Fellow of the American College of Surgeons (FACS), and an active member in good standing with the American Society of Plastic Surgeons (ASPS). He works with highly qualified injection specialists who are committed to results and safety.
After Gynecomastia Surgery
Following male breast reduction, patients can expect some swelling and bruising in the chest area. This, however, goes away after a few days. Dr. Vemula will provide a compression garment that should be worn for about 2 weeks to help with healing and reshaping. Many patients are able to resume their daily routine after a couple of days, but strenuous activities should be avoided for at least 3 weeks. Dr. Vemula's office will provide specific aftercare instructions to ensure prompt and uninterrupted recovery.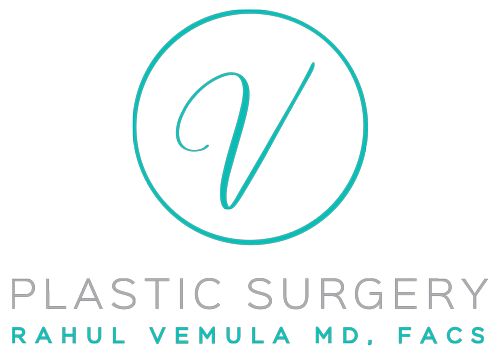 Gynecomastia Cost
The cost of Gynecomastia will vary from patient to patient.
Gynecomastia Recovery
Many patients are able to resume their daily routine after a couple of days, but strenuous activities should be avoided for at least 3 weeks.
Surgery Time
The procedure takes 1-2 hours to complete depending on the extent of the enlargement.
Gallery
Look at our Before & After Gallery to see the amazing results that Dr. Vemula consistently delivers for his patients.
EXPLORE
What causes male breasts?
Gynecomastia refers to an inflation of the male breast tissue leading to a rounded, feminine-looking appearance. This condition may be triggered by the following:
Alcohol and other recreational drugs

Certain supplements or herbal products

The natural process of aging 

Liver or kidney ailments

Certain medications 

Overproduction of estrogen hormone 

Klinefelter disease 

Thyroid problems 

Hormonal imbalance 
Regardless of the cause, Dr. Vemula takes each patient case and unique and delivers a treatment that alleviates this condition so that patients can live life without feeling impeded.
Will results last?
Male breast reduction is designed to yield permanent results. Patients are able to enjoy a new and firmer chest. Keep in mind though that extreme weight gain could cause gynecomastia to return.
Is my breast enlargement gynecomastia?
Not all cases of male breast enlargement or swelling are gynecomastia. Pseudo – or false – gynecomastia is possible where enlargement is caused by fat deposits rather than breast development. Dr. Vemula conducts precise tests to determine if an underlying medical condition is causing gynecomastia.  Patients with excessive fat deposits on their chest may benefit from lifestyle changes such as dieting and exercising.
Will there be scarring?
Whether or not there's scarring following gynecomastia surgery will be influenced by the surgical technique used. Incisions resulting from liposuctions and placed around the areola. These do not cause visible scarring. In cases where larger incisions are required to address extensive gynecomastia, Dr. Vemula will make every effort to minimize scarring. Proper post-operative care can also help reduce the visibility of any scars resulting from this procedure.