Reconstructive Pediatric Surgery Monmouth Surgery
Pediatric Plastic Surgery in Monmouth County, Jersey Shore, and West Long Branch NJ
Accidents or unforeseen trauma that leave a child with scars, burns, or disfiguration are a concern for every parent. These conditions tend to lower a child's self-esteem and can even make them an easy target for bullying.  Birth defects such as cleft lips, webbed fingers, hematomas, and congenital birthmarks are often physical attributes that cause unwanted attention. Reconstructive or cosmetic surgery may be the best option for restoring functionality, mobility, and aesthetics to the part of your child's body that has been affected.
Monmouth County pediatric plastic surgeon, Dr. Rahul Vemula, has immense experience working with children of all ages to restore their aesthetic appearance through reconstructive pediatric surgery. He has successfully performed restorative procedures on young boys and girls from Monmouth County areas such as Long Branch, West Long Branch, Eatontown, Rumson, Fairhaven, and Redbank. He is also on call for patients from surrounding Jersey Shore areas such as Brick, Toms River, Ocean County, Middlesex County, Central New Jersey, and New York City.
Pediatric Plastic Surgery Candidates
Like other restorative procedures, reconstructive pediatric surgery aims at enhancing your child's aesthetic appearance by eliminating birth defects, conspicuous congenital birthmarks, burns, and scars that may attract unnecessary attention to your child. Your child may benefit from this kind of treatment if they suffer from conditions such as:
Birthmarks (e.g. hemangiomas)

Malformation of blood vessels

Burns 

Cleft palate and lip 

Ear deformities

Craniofacial birth defects

Upper extremity abnormalities

Traumatic injuries

Nasal deformities 

Lower extremity deformities  

Port-wine stains 

Pigmented lesions 

Vascular anomalies or malformations
Your young one may also be eligible for this procedure if they:
Lose confidence as a result of any deformity 

Are being bullied due to a birth deformity or condition 

Are healthy enough to undergo restorative surgery 

Have a life-threatening condition that can be solved through the procedure
During your initial consultation at V Plastic Surgery, Dr. Vemula will examine your child to determine whether plastic or reconstructive surgery is right for them. He will also discuss various issues such as the timing of the surgery, as well as the number of surgeries required depending on your child's condition.
WE WOULD LOVE TO HEAR FROM YOU

Pediatric Cosmetic and Reconstructive Surgery
At your first consultation with V Plastic Surgery, Dr. Vemula will assess your child's problem areas and take their health history. He will also carefully listen to your concerns and answer any questions you may have regarding this procedure. Once the surgeon determines that your child is a good candidate for this treatment, the next step is to create an individualized treatment plan that will yield the best outcome for them. 
Dr. Rahul Vemula performs pediatric reconstructive surgery in New Jersey alongside a team of skilled nurses, certified anesthesiologists, and other medical staff. With the use of modern surgical techniques, a variety of treatment modalities, and assistance by other specialists if need be – Dr. Vemula is able to provide help for both his patients and their parents. Dr. Vemula is dedicated to delivering beautiful results as well as the well-being of his patients.
Planning for Pediatric Cosmetic Surgery in Monmouth County
Reconstructive pediatric procedures are typically performed under general anesthesia. Dr. Vemula may recommend that patients remain in the hospital for a day or two depending on the extent of the surgery. Your child will usually be required to refrain from strenuous activities for 6 to 8 weeks in order to avoid complications. Dr. Vemula recommends fun but non-strenuous activities to keep your child's mind off the surgery, pain, and bandages after surgery. He will also provide aftercare instructions to ensure proper healing.  
Health insurance providers may cover pediatric reconstructive surgery especially when it is deemed to be a medical necessity. Dr. Vemula's team will provide a cost estimate during your initial consultation visit at V Plastic Surgery so you will know what to expect.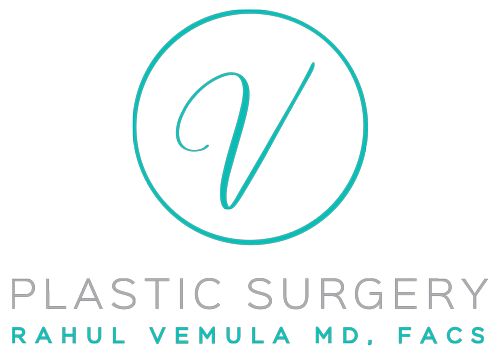 Reconstructive Pediatric Surgery Cost
The cost will vary depending on the extensiveness of the procedure.
Reconstructive Pediatric Surgery Recovery
Your child will be required to refrain from strenuous activities for 6 to 8 weeks in order to avoid complications such as rapture of wounds.
Surgery Time
Surgery time will vary based on the extensiveness of the procedure.
Gallery
Look at our Before & After Gallery to see the amazing results that Dr. Vemula consistently delivers for his patients.
EXPLORE
Reconstructive Pediatric Surgery FAQs
Will my child require a break from school?
Depending on the procedure, Dr. Vemula may recommend that your child stay out of school for 4 weeks or more. This is in order to prevent a situation where your child or their friends tamper with the wound. It is utterly important that the patient remains settled and comfortable with as much support as possible throughout the recovery stretch.  Often times, elective surgery can be timed to be scheduled during school breaks.
Will there be significant changes after the surgery?
Like any other surgery, results can vary depending on who and how the procedure is performed. Working with a double board-certified and highly experienced surgeon like Dr. Vemula greatly increases your chances of attaining the desired results. Dr. Vemula performs each reconstructive procedure with the goal of meeting the patient's (and/or their parent's) desires.