Facelift Monmouth County
Rhytidectomy (Facelift) in Jersey Shore, Monmouth County and West Long Branch NJ
Facial skin is prone to wrinkling and creasing as a result of factors such as age, stress, or prolonged sunlight exposure. The appearance of folds on the face, neck, forehead, or fat deposits around the jaws can make you look tired, angry, and older than you really are. A surgical facelift is the procedure for individuals who are looking to alleviate these concerns. While this treatment won't stop the aging process, it will help you achieve a youthful, natural, and rested facial look.
Monmouth County plastic surgeon Dr. Rahul Vemula has helped countless men and women achieve a more youthful and refreshed facial appearance with facelift surgery. Whether you want to correct signs of aging or boost your self-esteem with a refreshed appearance, Dr. Vemula will create an individualized treatment plan to yield the results you want to achieve.
Monmouth County Facelift – Different Types
There are different types of facelift procedures available to you depending on the problem spots patients are looking to address:
Short flap
This type of procedure is also referred to as a mini facelift and helps rejuvenate the lower face for individuals who have minimal sagging causing early jowls and excess lower face skin. The surgeon will make a small incision above the ears going down and use it to tighten and smoothen the facial contour. 
Mid-facelift
This is a cosmetic procedure that corrects sagging in the cheek area. Surgeons make an incision behind the hairline at the temples, and inside the mouth to reduce mid-face sagging and creasing. This treatment is ideal for individuals who have moderate sagging in the jowls and neck. 
Deep plane
This is the facelift of choice improving heavy sagging in the cheeks and neck. This treatment will enhance skin laxity while providing natural, long-lasting results. Dr. Vemula finds that this technique yields the best results for many of his patients. 
Neck lift
In some cases, the surgeon may combine a neck lift with a facelift to get rid of excess chin fat and noticeable bands within the neck.
Candidates for Rhytidectomy in NJ
If you have significant signs of aging or sagging on your face, it may be time to receive a facelift from Monmouth County facelift surgeon, Dr. Rahul Vemula. You may also be an ideal candidate for this cosmetic procedure if:
You wish to enhance the overall appearance of your face

Your face gives the impression that you are older than you actually are  

You are in great physical and mental health 

You have realistic expectations about the outcome of the procedure 

You are either a non-smoker or are willing and ready to quit before surgery 
During your initial consultation visit at V Plastic Surgery, Dr. Vemula will listen to your concerns and examine your trouble areas before determining whether this procedure is for you. This initial visit is also a great opportunity to learn more about what to expect with regard to recovery and outcome. 
WE WOULD LOVE TO HEAR FROM YOU

Benefits of a facelift with Dr. Vemula
Restore your confidence
Many of Dr. Vemula's facelift patients in West Long Branch, Eatontown, Fairhaven, Rumson, Redbank, and other Monmouth County cities experience a boost in confidence following this treatment.
Natural-looking results
One of the leading facelift cosmetic surgeons in New Jersey, Dr. Rahul Vemula has the knowledge, skills, and experience it takes to deliver profound results. The surgeon utilizes advanced techniques to yield natural-looking results while minimizing the risk of complications.
Feel younger
Your face will look attractive and refreshed after a successful facelift treatment. Patients typically say their facelift not only makes them look younger but also makes them feel younger.
Facelift Surgery and Timeline
A facelift is considered to be an outpatient procedure that is performed under general or local anesthesia. The surgery takes 3-4 hours to complete and patients can expect to go home the same day. Dr. Vemula will provide detailed post-operative care instructions to ensure a smooth recovery. It is common to experience a degree of swelling and bruising following the treatment, but this subsides very quickly. You will be able to get back to work within 2 weeks, and the results of the treatment will be evident in 4-6 weeks. It's possible to see long-term results going for up to 10 years by taking proper care of your skin.
Planning your Facelift in NJ
The cost of a facelift in Monmouth County NJ can vary from patient to patient depending on the extensiveness of the treatment. Your first step to this procedure is to book a consultation visit with Dr. Vemula at V Plastic Surgery in West Long Branch, NJ. Dr. Vemula performs this cosmetic surgery in an accredited facility with a highly skilled professional support team.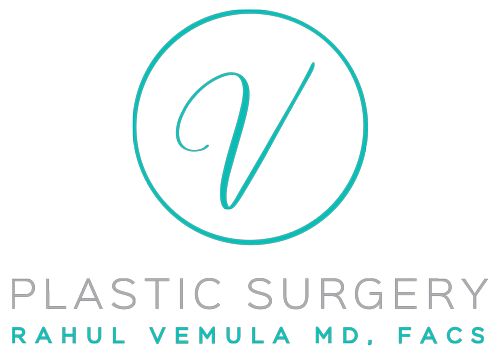 Face Lift Cost
The cost will vary depending on the extensiveness of the procedure.
Face Lift Recovery
You can expect to get back to light daily activities within a week or two, but will have to wait a couple of months before engaging in any strenuous activities.
Surgery Time
The surgery takes 3-4 hours to complete and patients can expect to go home the same day.
Gallery
Look at our Before & After Gallery to see the amazing results that Dr. Vemula consistently delivers for his patients.
EXPLORE
What is the best age for a facelift?
The majority of patients who undergo this treatment are aged between 50 and 70. However, you can choose to receive this procedure as soon as you notice signs of aging, wrinkles, or creases on your skin. Depending on factors that affect your skin such as environmental conditions, personal habits, etc, you can choose to have this treatment whenever you think is reasonable. 
Will my face look pulled after this cosmetic procedure?
Many facelift patients are concerned about having a 'pulled' appearance following this treatment. Dr. Vemula works by tightening the muscles underlying the skin and then gently laying down and trimming the skin. It's important that you work with a highly seasoned cosmetic surgeon to avoid a dissatisfactory outcome such as a 'pulled' face. During your first visit to his clinic, Dr. Vemula will provide before and after photos of other patients who have come to him for their facelift.
How long does recovery take?
Following facelift surgery, you can expect to get back to light daily activities within a week or two. You will need to wait for a couple of months or at least be given the green light from your surgeon before engaging in any strenuous activities.