Eyelid Surgery Monmouth County
Blepharoplasty in Monmouth County, Jersey Shore, and West Long Branch
Eye bags, sagging skin, and wrinkles around your eyes can add years to your age and contribute to an unappealing facial appearance. Eyelid Surgery, also known as Blepharoplasty, eliminates skin laxity and reduces fat around the eyes that may be caused primarily by aging, sunburn, or genetics. This treatment involves tightening the skin around the eyelids, removing wrinkles, eliminating fat, and reducing puffiness around the eyes.
Monmouth County plastic surgeon – Dr. Rahul Vemula – has helped countless men and women regain youthfulness in their eyes and improve vision with Blepharoplasty surgery. Dr. Vemula works with patients from Monmouth County areas such as Long Branch, West Long Branch, Eatontown, Rumson, Fairhaven, and Redbank. Many of his patients also travel from surrounding Jersey Shore areas such as Brick, Toms River, Ocean County, Middlesex county, Central New Jersey , and New York City.
Monmouth County Eyelid Surgery Candidate
Eyelid Surgery aims to restore the shape, size, and appearance of eye features to give you a youthful look. You may be eligible for Blepharoplasty if you want to treat:
Bags under the eyes

Excessive fat deposits in upper and lower eyelids

Puffy eyes

Saggy lower eyelids

Peripheral vision affected by laxity in your eyes

Wrinkles in lower eyelids
Dr. Vemula will keenly listen to your concerns and conduct a physical examination to determine the severity of your problem. The surgeon will also take your health history into account to further assess whether you're an eligible candidate for this procedure. Should you be deemed a good canddiate, Dr. Vemula creates an individualized treatment plan that is designed to yield the best possible outcome for you with minimal or no side effects at all.
Types of Eyelid Surgery
There are various types of eyelid surgery available with Dr. Vemula. The right option will depend on your problem areas and cosmetic concerns. 
Upper Eyelid Surgery – For "hooded" eyes, this procedure focuses on eliminating saggy skin, excess fat, and other unwanted features from the upper eyelid.
Lower Eyelid Surgery – For "eye bags", lower blepharoplasty is best suited for individuals with bags under their eyes. This treatment aims to address laxity and excess skin under the lower eyelids to give you a less tired and more youthful look. 
Double eyelid surgery – Most patients concerned of their "hooded" and "baggy" eyelids opt for this procedure. This addresses unwanted features in both the upper and lower eyelids.
WE WOULD LOVE TO HEAR FROM YOU

Eyelid Surgery
Dr. Vemula understands that the needs of each patient are different. For that reason, he seeks to understand all your needs and concerns, then crafts a personalized treatment plan to give you the results that you desire. During upper eyelid surgery, the surgeon will make an incision along the eyelid's natural crease to either remove or relocate fat tissues. He'll then trim excess skin from the eyelid and close the incision using fine sutures. During lower eyelid surgery, Dr. Vemula may make an incision below the lower eyelash or perform a transconjunctival incision inside the eyelid, depending on the patient's skin elasticity.
Planning Eyelid Surgery in Monmouth County
Before the surgery, Dr. Vemula will provide strict instructions that should be followed to ensure that you have a successful surgery without any complications. You'll need to have someone to drive you home after the procedure as well as help out with tasks at home. 
Blepharoplasty is an outpatient procedure that is usually performed under general anesthesia as well as being performed in the office under local anesthesia. The surgery takes about 1 or 2 hours to complete. You will likely experience slight bruising and swelling around the eyes. This is normal and dissipates within a few days. Dr. Vemula will schedule a post-op appointment within 7 days to have your stitches removed. Most of his patients take about 10-14 days to recover. Dr. Vemula will let you know when you are allowed to apply makeup on your eyes and engage in strenuous activities. Scars from the incision sites may appear conspicuously red and can take up to 6 months to heal. 
Dr. Vemula performs eyelid surgery in state of the art accredited facilities supported by a board-certified anesthesiologist and a highly skilled nursing team. The cost of this procedure depends on the patient's problem areas. An exact cost will be given to the patient after their evaluation from their consultation.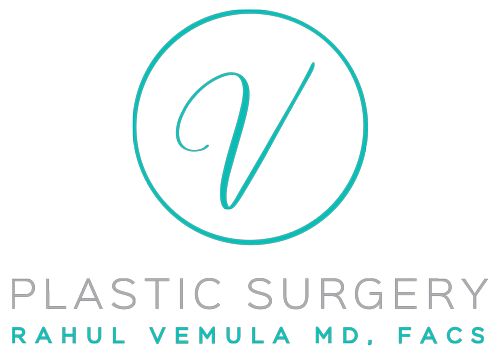 Eyelid Surgery Cost
The cost will vary depending on the extensiveness of the procedure.
Eyelid Surgery Recovery
Most of Dr. Vemula's patients take about 10-14 days to recover.
Surgery Time
The surgery takes about 1 or 2 hours to complete.
Gallery
Look at our Before & After Gallery to see the amazing results that Dr. Vemula consistently delivers for his patients.
EXPLORE
Will the scars be visible?
Scars resulting from eyelid surgery are not visible if performed by a professional plastic surgeon like Dr. Vemula. Every incision should be sizeable and made in a less conspicuous manner to give more natural results. If you have concerns about scarring, make sure to discuss this with Dr. Vemula during your visit to V Plastic Surgery.
Can I combine Blepharoplasty with other cosmetic procedures?
Eyelid surgery can restore with other cosmetic procedures such as brow-lift, Botox, mid-face lift, and laser or chemical skin rejuvenation. Dr. Vemula will help you select the best procedure regimen to give you the results that you are looking for.
Are the results permanent?
Eyelid surgery results may last longer if this procedure is performed by a highly trained plastic surgeon like Dr. Vemula. The results of the procedure can vary depending on the individual's skin elasticity. Other factors such as lifestyle, aging, and genetics may influence the longevity of your procedure. Due to aging, it's not uncommon to notice substantial laxing of the skin around your eyes due to aging.
Does gaining weight reverse the results of this procedure?
Losing weight changes the size and shape of your face which then can affect the result of your Blepharoplasty. Gaining weight means that excess fat will return around your eyes which may give you hooded or baggy eyelids.