Nipple reconstruction surgery is a surgical procedure that recreates a woman's nipples and areola after a mastectomy or trauma to the breast. Plastic surgeons aim to restore the appearance, texture, and size of the nipples – usually after breast reconstruction surgery. This helps the patient regain a sense of their innate femininity and wholeness.
Board-certified plastic surgeon Dr. Rahul Vemula offers nipple reconstruction plastic surgery to breast reconstruction patients in Monmouth County and surrounding New Jersey areas. The surgeon takes the time to understand your treatment journey before creating a highly individualized treatment plan to achieve your goals.
Who is a Candidate for Nipple Reconstruction?
You may be a good candidate for nipple reconstruction if:
You have good overall health (physical and mental).
You have decent skin elasticity.
You are free of any medical conditions that would interfere with the recovery process.
You are looking to regain sensation in the nipple.
You have realistic expectations about the outcome of this procedure.
Benefits of Nipple Reconstruction
Some of the benefits of nipple reconstruction include the following:
Improves breast symmetry to lead to a more natural aesthetic.
Increases your self-confidence and enhances a positive body image.
Improves sensation in the nipple
Types of Nipple Reconstruction Techniques
Dr. Vemula specializes in a number of nipple reconstruction techniques to suit the needs and preferences of different patients.
Skin graft reconstruction
This type of nipple reconstruction entails taking a skin graft from other parts of the body (such as the abdomen or inner thighs) and using it to rebuild the nipple-areola complex. Dr. Vemula typically recommends this technique when there isn't enough tissue left on the breast to reconstruct the nipple and areola. Many patients find that skin graft nipple reconstruction provides a good match in terms of color and texture.
Skin flap reconstruction
In this type of nipple reconstruction surgery, Dr. Vemula uses breast skin to create a bump that becomes the new nipple. This is achieved by folding and sewing together skin flaps to give the nipple an elevated appearance.
Autologous graft reconstruction
This technique is sometimes preferred in situations where one of the patient's breasts was not affected by mastectomy. The surgeon will then use a portion of the natural nipple to reconstruct the new nipple. This technique is also known as nipple sharing and it uses autologous tissues.
Medical tattooing
Nipple tattoos may sometimes be used to intensify pigmentation of the nipple-areola complex for a more natural and pleasing aesthetic. Your plastic surgeon's tattoo specialist may alter the colors to match different skin tones and 3D nipple tattooing may also be used to give the nipple an elevated appearance.
WE WOULD LOVE TO HEAR FROM YOU

Doctor Vemula's Procedure Approach
Nipple reconstruction may be carried out under local anesthesia with sedation or general anesthesia. Dr. Vemula will discuss the pros and cons of each type of anesthetic to help you make an informed choice. This is an outpatient procedure so most patients are allowed to return home on the same day. During the surgery, the plastic surgeon will carefully shape the tissue to create the nipple mound while taking into account the desired size and projection. A small incision is then made at the base of the reconstructed breast to create a space for the nipple graft or flap. The next step is to carefully position the graft or flap and suture it into place. Incisions are then closed using dissolvable sutures and a protective dressing applied to aid in the healing process. This procedure takes between one and two hours to complete. Throughout your nipple reconstruction experience, Dr. Vemula makes sure to take your unique circumstances and personal preferences into account.
Schedule Your Nipple Reconstruction in Monmouth County NJ
Dr. Vemula and his team at V Plastic Surgery have the training, skills, and experience needed to perform a truly remarkable nipple reconstruction procedure. Working with highly qualified support staff, Dr. Vemula utilizes the latest techniques to help breast cancer survivors restore their sense of wholeness. Get in touch with the surgeon's Monmouth County office to learn more or schedule a nipple-areola reconstruction consultation today.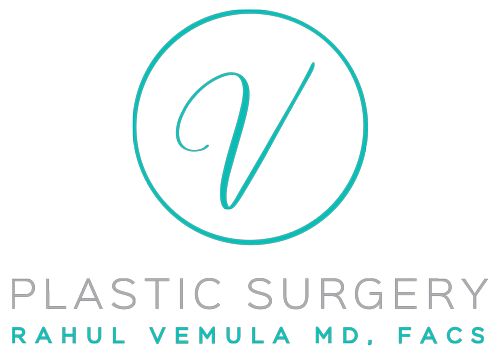 Nipple Reconstruction Cost
The cost of nipple reconstruction for the purposes of breast reconstruction is covered by health insurance as per federal law.
Nipple Reconstruction Recovery
Due to Dr. Vemula's use of enhanced recovery after surgery (ERAS) protocols, you will have minimal pain after nipple reconstruction surgery.  Most patients are able to resume their regular activities within a few weeks of the procedure. 
Surgery Time
Surgery time will vary per patient.
Gallery
Look at our Before & After Gallery to see the amazing results that Dr. Vemula consistently delivers for his patients.
EXPLORE
Nipple Reconstruction FAQs
Are the results natural looking?
All surgeries do carry some level of risk. Potential complications from nipple reconstruction surgery may include infection, nipple flattening, delayed wound healing, and bleeding. Dr. Vemula uses the latest surgical methods to keep the risks minimal and manageable for all his breast reconstruction patients.
How long do the results last?
The outcome of this type of plastic surgery is long-term. However, it is important to keep in mind that additional procedures may be performed to cater to individual needs. These may range from simple touch-ups to obtain the desired look or revision surgery to deal with minor complications. 
Are there any non-surgical options for nipple reconstruction?
There are options that do not involve a surgical procedure such as medical tattooing and nipple prosthetics. Three-dimensional medical tattooing gives the appearance of an elevated nipple and allows for preferred pigmentation on the nipple-areola complex. Nipple prosthetics are made of silicone and are simply attached to the breasts using skin glue. These prosthetics can be customized to suit the patient's individual preferences.
Are results natural looking?
Nipple reconstruction surgery to realistic results that are close to restoring the breast's original silhouette.  Most times, sensation is also restored in the reconstructed nipple. Keep in mind though that the procedure must be performed by a seasoned, board-qualified plastic surgeon to ensure the best possible outcome.