Direct-to-implant breast reconstruction is a surgical procedure that involves the placement of breast implants immediately after a mastectomy. This process eliminates the need for tissue expanders that are commonly used in traditional breast reconstruction techniques. It is a popular reconstructive option among women who are looking to feel whole again while avoiding the long duration involved in delayed implant reconstruction.
Monmouth County plastic surgeon Dr. Rahul Vemula has helped countless women who have undergone mastectomy feel confident again with reconstructive surgery. The surgeon understands the difficulty of dealing with a cancer diagnosis and formulates an individualized treatment plan to achieve a pleasant reconstructive outcome.
Am I a good candidate for Direct-to-Implant reconstructive surgery?
Direct-to-Implant breast reconstruction is an excellent choice for women who have undergone or are about to undergo a mastectomy and are looking to restore their breast shape and size. You may be a suitable candidate for this reconstructive technique if:
You are in fairly good health. This is important for the surgeon to be able to carry out the operation with minimal risk. Aspects such as adequate blood flow and blood supply are crucial to a successful surgical procedure.
You are comfortable with the use of implants as an option for breast reconstruction.
You are undergoing a unilateral or bilateral mastectomy and prefer immediate reconstruction to avoid multiple surgeries.
You are not currently undergoing or planning to receive radiation therapy. Radiotherapy could damage breast tissue around the implants compromising the results of the surgery.
You are in search of a more modern and minimally invasive procedure.
You are not an active smoker. Tobacco use increases the risk of complications.
Dr. Vemula's office is best placed to discuss your unique treatment needs and advice on the best possible breast reconstruction technique for you.
Benefits of Direct-to-Implant reconstruction
One-step surgery so you can shift your focus on recovery
No use of tissue expanders that need several surgeries just to be inserted. These also tend to be quite uncomfortable and have been known to damage blood vessels around the breast tissue.
Implants are inserted beneath the pectoralis muscle where they provide more physical support for the breasts giving off more of a natural aesthetic.
Quicker recovery time compared to other reconstructive options.
Immediate vs delayed reconstruction
Immediate reconstruction is an approach whereby breast reconstruction is performed at the same time as the mastectomy. The plastic surgeon usually takes over immediately after your cancer surgeon removes the breast or lump and reconstructs the breast with an implant or tissue from your body. This is the common reconstruction choice for most patients. Delayed breast reconstruction – on the other hand – is performed many weeks, months, or even years after a mastectomy or lumpectomy. This option is sometimes recommended when the patient has advanced disease or still needs to undergo radiation therapy as part of their cancer treatment.
WE WOULD LOVE TO HEAR FROM YOU

Doctor Vemula's Procedure Approach
important one-on-one, the surgeon will consider your body type, medical history, breast size, implant size, and other factors that are unique to you. All this is done to help you make an informed decision in order to ensure the best possible outcome.
During the surgery, a breast implant will be inserted in the chest muscle after the mastectomy is carried out. The surgeon will use the implant type and size you selected during the consultation phase. At times, a combination of silicone and saline implants may be used to provide a more natural result.
Schedule Your Breast Reconstruction in Monmouth County NJ
Breast cancer can leave you with self-image issues. This is where reconstructive plastic surgery procedures techniques like direct-to-implant come in. Dr. Vemula and his team at V Plastic Surgery have the training, skills, and experience needed to perform truly transformative breast reconstruction in order to restore a feeling of normalcy. Get in touch with the surgeon's Monmouth County office to schedule a consultation today.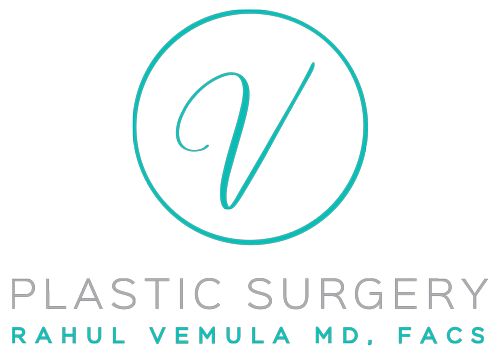 Direct to Implant Cost
The cost of direct to implant for the purposes of breast reconstruction is covered by health insurance as per federal law.
Direct to Implant Recovery
Due to Dr. Vemula's usage of enhanced recovery after surgery (ERAS) protocols, you will have minimal pain after direct-to-implant surgery. Most patients are able to resume their regular activities within a few weeks of the procedure. Patients are usually required to wear a supportive bra to help support and shape the breasts throughout the 6-week recovery.
Surgery Time
Surgery time will vary per patient.
Gallery
Look at our Before & After Gallery to see the amazing results that Dr. Vemula consistently delivers for his patients.
EXPLORE
Direct to Implant Reconstruction FAQs
Are the results natural looking?
Yes, direct-to-implant breast reconstruction often provides a more natural-looking result than traditional breast reconstruction procedures. By going directly to the implant, a board-certified plastic surgeon like Dr. Vemula is able to create a more precise and natural-looking breast shape.
Will the surgery affect my capacity to breastfeed?
Breastfeeding could still be a possibility after direct-to-implant breast reconstruction. However, t this depends on how extensive the surgery was and your individual circumstances. This will be factored in during the consultation and the surgeon will provide adequate and appropriate medical advice.
How long will the surgery take?
Direct-to-implant breast reconstruction surgery takes approximately two to three hours to complete. The specific time might vary based on the patient's unique case and set of circumstances.
How much time before I get back to my daily routine?
The time needed to recover varies depending on a number of factors such as general health status, duration of surgery, and age. The average time is about four to six weeks after the procedure.
What are the risks of direct-to-implant reconstruction?
All surgeries, including implant reconstruction, tend to have some risks. These include implant leaking, fluid collection, infection, and bleeding. However, it is important to note that Dr. Vemula uses advanced surgical methods to keep risks minimal and manageable.