Composite stacked flap surgery is an advanced breast reconstruction technique that is usually selected when a single flap is not enough. Plastic surgeons utilize tissue flaps from multiple donor sites to rebuild the breast mound. This may include combining the TRAM flap and latissimus dorsi flap or using flaps from the abdomen, buttocks, or thighs – depending on your anatomy and the surgeon's expertise.
Dr. Rahul Vemula, a board-certified plastic surgeon based in Monmouth County NJ, is a seasoned practitioner in this type of autologous breast reconstruction. The surgeon takes a compassionate and individualized approach to deliver the best possible outcome for New Jersey breast cancer survivors who are suited for this technique.
Am I a good candidate for composite stacked flap surgery?
Composite stacked flap breast reconstruction is a complex surgical technique that involves the use of multiple tissue flaps to create a natural-looking and feeling breast mound. You may be a good candidate for this breast reconstruction method if:
You are in fairly good health to be cleared for surgery. This is important for Dr. Vemula to be able to carry out the operation with minimal risk.
There has been extensive damage to breast tissue as well as tissue loss due to radiation and mastectomy. This technique allows the patient to regain the anatomical and functional integrity of previously damaged tissues.
You have adequate/suitable donor sites. Multiple flaps are required for this surgery and they are derived from various areas of the body such as the abdomen, thighs, back, and buttocks.
You prefer autologous breast reconstruction as opposed to implant-based reconstruction. Flaps from your own tissue tend to result in a more natural feel and size.
You have realistic expectations about the outcome of this procedure.
Benefits of composite stacked surgery
Some of the benefits of the composite stacked flap breast rebuilding technique include the following:
A more natural and pleasing aesthetic.
Potential for single-stage Reconstruction. Composite stacked flap reconstruction may sometimes be performed as a single-stage procedure. This eliminates the need for multiple surgeries and reduces overall treatment time.
Restored functionality and anatomical structure of damaged breast tissue (thus enabling a sense of normalcy).
Avoids complications that come with breast implants (e.g. leaking or rupture).
A tailor-made approach to suit your preferences in terms of breast size and shape. Individual circumstances such as the extent of breast tissue loss are also taken into account.
Sustainable for long periods of time. The use of autologous tissues promotes proper blood flow and thus reduces complications related to the blood supply. This also minimizes the likelihood that revision surgeries will be required.
WE WOULD LOVE TO HEAR FROM YOU

Doctor Vemula's Procedure Approach
Dr. Vemula's surgical approach for this procedure starts with an extensive analysis of tissue damage and loss. If you are deemed to be a suitable candidate for the composite stacked flap technique, the surgeon will create a personalized treatment modality to achieve the best possible outcome. A thorough assessment of potential donor sites will be carried out to determine the most suitable combination of tissue flaps for stacking. The procedure itself is performed on an inpatient basis at a certified surgical facility. Aided by a certified anesthetist and a highly qualified support team, Dr. Vemula will skillfully layer and sculpt the flaps to create a natural breast contour that closely matches the opposite breast. Microsurgery is used to reconnect blood vessels from the donor areas to the chest blood supply. The entire procedure takes between 3 – 5 hours to complete.
Schedule Your Breast Reconstruction in Monmouth County NJ
Dr. Vemula and his team at V Plastic Surgery have the training, skills, and experience needed to perform a truly transformative breast reconstruction procedure. Working with highly qualified support staff, Dr. Vemula utilizes the composite stacked flap technique to help breast cancer survivors restore their sense of wholeness and self-confidence. Get in touch with the surgeon's Monmouth County office to learn more or schedule a consultation today.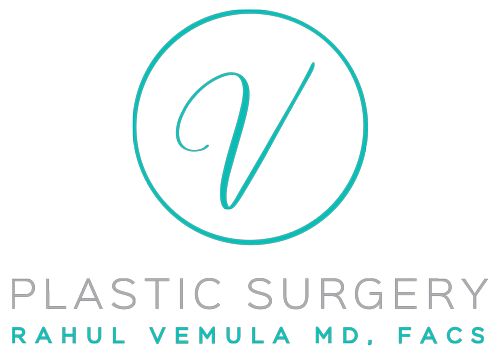 Composite Stacked Flap Cost
The cost of a composite stacked flap for the purposes of breast reconstruction is covered by health insurance as per federal law.
Composite Stacked Flap Recovery
Due to Dr. Vemula's usage of enhanced recovery after surgery (ERAS) protocols, you will have minimal pain after Composite Stacked Flap surgery.  Most patients are able to resume their regular activities within a few weeks of the procedure. Patients are usually required to wear a supportive bra to help support and shape the breasts throughout the 6-week recovery.
Surgery Time
Surgery time will vary per patient.
Gallery
Look at our Before & After Gallery to see the amazing results that Dr. Vemula consistently delivers for his patients.
EXPLORE
Composite Stacked Flap FAQs
Are the results natural looking?
Composite stacked flap breast reconstruction often provides a more natural-looking result than other breast reconstruction procedures. Keep in mind though that the procedure must be performed by a seasoned, board-qualified plastic surgeon to ensure the best possible outcome.
How do I prepare for a composite stacked flap surgery?
Ample preparation is needed to ensure a smooth process and successful outcomes. Dr. Vemula's office will share the detailed information that you need to ensure a successful procedure outcome. Among other things, you'll be asked to focus on a healthy diet, avoid certain medications, and quit smoking.
What are the risks of composite stacked flap surgery?
All surgeries (including composite stacked reconstruction) tend to carry some risk. These include infections, delayed wound healing, and bleeding. Dr. Vemula uses the latest surgical methods to keep risks minimal and manageable.
Will this procedure increase the risk of cancer recurrence?
No. Current scientific studies have not shown any direct link between composite stacked flap surgery and the recurrence of breast cancer.