Breast Revision Monmouth County
Breast Revision Surgery in Monmouth County, Jersey Shore, and West Long Branch, NJ
More than 2 million American women have received breast implants. While the majority of these are highly satisfied with the results of their augmentation surgery, some patients feel that something more can be done to improve the outcome of the initial procedure. These feelings of dissatisfaction may be caused by the size, shape, or placement of the implant, or complications resulting from the augmentation procedure. Other patients need to have a breast revision due to safety concerns, or in order to replace their implants after a certain duration of time. Dr. Rahul Vemula has helped countless New Jersey women gain satisfaction and improve their confidence level with revision breast surgery. This procedure is typically similar to a breast augmentation surgery, but with slight modifications based on the reason for revision.
Reasons for a Breast Revision
Different augmentation patients have different reasons for needing a revision procedure. Some of the more common reasons include:
Capsular Contracture
Infrequently, the capsule around a breast implant can harden. When this occurs, it is called capsular contracture. This causes distortion of implant appearance, discomfort, and even pain. Dr. Vemula offers capsulectomy, a revision procedure that focuses on removing the capsule in order to treat this complication. There are several theories as to the cause of capsular contracture.  Dr. Vemula takes great care to minimize the risk of capsular contracture during the initial augmentation or revision surgery.
Malposition
Breast implants from the augmentation procedure may ride too high, too low, or too lateral on the chest wall. When this happens, most patients will need revision surgery to correct the malposition. Depending on the extent of displacement, Dr. Vemula may offer surgical revision to attain a balanced and well-proportioned look.
Implant Deflation
Saline implants may rupture and leak, leading to a deflated breast appearance. Although this does not cause a health concern, the patient's breasts will have asymmetry and an unaesthetic appearance.  The revision procedure, in this case, maybe as simple as replacing the deflated implant. Depending on the manufacturer of the implant; if still under warranty, the cost of the implant may be covered by the manufacturer. The patient, however is still responsible for covering the cost of anesthesia, operating room and surgeon fees.
Change in Breast Size
Many women feel that they need larger or smaller breasts after the initial augmentation treatment. This is usually due to changes in personal preferences as well as changing societal norms. In this case, Dr. Vemula will take the patient through a selection process to understand their desired size then perform an implant replacement procedure.
During your initial consultation with Dr. Rahul Vemula at V Plastic Surgery, the surgeon will listen to your concerns and let you know whether revision surgery is for you. In some cases, nonsurgical options may be available to give the patient the desired outcome.
WE WOULD LOVE TO HEAR FROM YOU

Breast Revision
The first step when planning this kind of procedure is to diagnose the problem which is unique to each patient. Dr. Vemula will make these determinations during a physical examination performed on your first visit at the V Plastic Surgery in West Long Branch, NJ. Once this is done, the surgeon will take you through the pros and cons of different types of implants, as well as help you choose the best one. The surgeon's goal is to create an effective treatment plan while minimizing the need for any future revision surgery. Dr. Vemula pays keen attention to each patient's individual concerns and formulates an individualized treatment plan. Following the revision treatment, he will provide a detailed post surgical plan to help you recover promptly and get back to your everyday life.
Why Choose Dr. Vemula for your Breast Revision in Monmouth County
Monmouth County plastic surgeon Dr. Rahul Vemula is a double board-certified practitioner with years of experience performing augmentation and revision procedures. Dr. Vemula is known for championing modern surgical techniques that achieve the desired results while creating minimal scarring and reducing the risk of complications. His detailed mindset is ideal for producing the precise, careful results that every patient is looking for with a revision outcome. Dr. Vemula also works with a team of highly professional support staff who go out of their way to ensure the safety of each patient during and after treatment. Dr. Vemula works with patients from Monmouth County areas such as Long Branch, West Long Branch, Eatontown, Rumson, Fairhaven, and Redbank. Many of his patients also travel from surrounding Jersey Shore areas such as Brick, Toms River, Ocean County, Middlesex county, Central New Jersey , and New York City.
Planning your Monmouth County Breast Revision
Dr. Vemula performs Monmouth County Breast Revision in an accredited facility, staffed with a board certified anesthesiologist and highly qualified nursing staff. In cases where a replacement implant is a manufacturer's defect, warranties may cover part or all of the surgical cost. This procedure is typically not covered by insurance. Dr. Vemula completes a revision surgery within 3-4 hours, and most of his patients are able to return to their normal activities within a few weeks.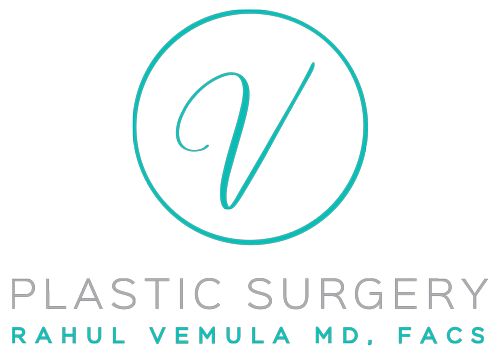 Breast Revision Cost
In cases where a replacement implant is a manufacturer's defect, warranties may cover part or all of the surgical cost. This procedure is typically not covered by insurance. Cost will vary per patient.
Breast Revision Recovery
Most of Dr. Vemula's patients are able to return to their normal activities within a few weeks.
Surgery Time
Dr. Vemula completes a revision surgery within 3-4 hours.
Gallery
Look at our Before & After Gallery to see the amazing results that Dr. Vemula consistently delivers for his patients.
EXPLORE
Is breast revision a more involved procedure?
Compared to other types of breast enhancement procedures such as augmentation, breast revision is a more involved treatment that requires advanced skills. Your surgeon may be dealing with factors such as changes in the breast skin due to an earlier surgery, scar tissue, aging, and other challenges. Advanced techniques and meticulous attention to detail are required for the success of a breast revision procedure. Dr. Vemula is a double board-certified breast surgeon who has helped countless women from Monmouth County, Jersey Shore and surrounding New Jersey areas.
What can I expect during breast revision recovery?
It is common for patients to experience soreness and swelling immediately following a revision procedure. Discomfort is also common over the first few days. The majority of patients are well recovered and able to get back to their regular activities within a few weeks following surgery.
Are results of a breast revision permanent?
Breast revision surgery performed by Dr. Vemula at V Plastic Surgery in Monmouth County is a long lasting procedure. However, the procedure itself won't stop the aging the natural aging process. You can expect your breasts to continue responding to gravity and aging just like the rest of your body. Some women may need additional revision surgery several years after an initial revision.
Schedule your Breast Revision Consultation in NJ
For more information about the best Breast Revision in Monmouth County, or if you would like to schedule a consultation with Dr. Vemula, get in touch with his West Long Branch office.