Breast Asymmetry Correction Monmouth County
Breast Asymmetry Correction in Monmouth County, Jersey Shore, and West Long Branch
Breast asymmetry refers to breasts that demonstrate different shape, size, or nipple and areolar characteristics. This discrepancy is common and most often forms during adolescence when the breasts are still developing. Pregnancy, breastfeeding, weight changes and the natural process of aging can make breast asymmetry more profound. Many women who are concerned about breast variances can benefit from breast asymmetry correction. 
Monmouth County breast asymmetry correction surgeon, Dr. Rahul Vemula, understands your concerns and works to create an individualized treatment plan that yields the best results for you. Dr. Vemula has helped countless New Jersey women improve the overall balance of their breasts and obtain appealing, natural-looking results. Dr. Vemula works with patients from Monmouth County areas such as Long Branch, West Long Branch, Eatontown, Rumson, Fairhaven, and Redbank. He is also on call for patients from surrounding Jersey Shore areas such as Brick, Toms River, Ocean County, Middlesex County, Central New Jersey, and New York City.
Types of Breast Asymmetry
Some common forms of asymmetric breasts that Dr. Vemula corrects include the following:
Breast hypertrophy and hypoplasia

– patients have one large breast and one small breast. 

Asymmetric hypoplasia

– this is an asymmetric condition where both breasts are small, with one being smaller than the other. 

Unilateral ptosis

– this is a condition where one breast droops or hands below the other. 

Positional asymmetry

– this happens when one breast sits lower or higher than the other. 

Areolar asymmetry

– some women have nipple-areolar complexes that vary in size, bulge, or projection. 

Tuberous deformity

– this is an unusual breast shape with varying degrees of asymmetry, size discrepancy, areolar herniation, and breast constriction. 
Patients may possess one, several, or all of the above characteristics. The challenge for the surgeon is to create an individualized treatment plan that takes into account the patient's unique anatomic requirements as well as personal goals. Many candidates who are looking for the best breast asymmetry correction in Monmouth County find that they can count on Dr. Vemula's advanced tradecraft and reshaping expertise to yield the desired aesthetic outcome.
Who is a candidate?
You may be a good candidate for breast asymmetry correction surgery if:
You desire a more balanced breast symmetry. 

Want to evenly fill out your swimsuits and other clothing.

Have breasts that are disproportionately sized or shaped.

Have experienced a loss in breast volume as a result of pregnancy, breastfeeding, weight changes, or aging. 
In addition to the above characteristics, ideal candidates for this procedure ought to be in good overall health with no unmanaged medical conditions. Dr. Vemula also recommends that women who have had children should wait for at least a couple of months before pursuing this surgery. During your initial consultation with V Plastic Surgery, the Vemula will listen to your concerns, conduct a thorough examination of your breasts, take your medical history, and let you know whether this procedure is for you. 
How is breast asymmetry corrected?
The procedure to balance breast asymmetry is a highly personalized one. Different patients have different characteristics and thus different needs. Dr. Vemula's primary concern is to ensure that you receive optimal surgical changes in line with your aesthetic goals. Depending on the degree and nature of asymmetry, the surgeon may choose to perform a breast lift, breast augmentation, or breast reduction procedure on one of the breasts. In some cases, different procedures will be performed on either breast in order to accomplish the desired changes. Dr. Vemula will discuss all the available options and chart a way forward at your initial consultation with V Plastic Surgery. 
WE WOULD LOVE TO HEAR FROM YOU
Breast asymmetry correction is performed at an accredited medical facility typically under general or local anesthesia. You'll need to make arrangements for someone to drive you home and help you with chores over the first few days of recovery. Because this procedure is considered to be an elective cosmetic surgery, health insurance usually does not pay for it. Dr. Vemula's team will create an initial cost breakdown to help you get ready. Dr. Vemula works with board-certified anesthesiologists and highly qualified support staff who prioritize patient safety and well-being.
Planning your Breast Asymmetry Correction
It is important to let your surgeon know whether you are planning to lose a significant amount of weight before this procedure. Keep in mind that any changes in size may affect your results and thus weight changes are recommended before surgery. Dr. Vemula also recommends that patients wait until after the breasts are fully developed before receiving this procedure. During your first visit to V Plastic Surgery, the surgeon will ask you to stop smoking at least two weeks before the operation and share precise instructions to help you get ready for the surgery.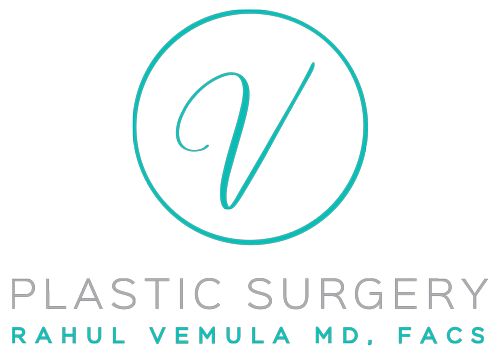 Asymmetry Correction Cost
The cost will vary depending on the extensiveness of the procedure from patient to patient due to their distinctive anatomy.
Asymmetry Correction Recovery
You'll need to make arrangements for someone to drive you home and help you with chores over the first few days of recovery.
Surgery Time
Surgery time depends on the extent of the procedure.
Gallery
Look at our Before & After Gallery to see the amazing results that Dr. Vemula consistently delivers for his patients.
EXPLORE
Asymmetry Correction FAQs
What are the benefits?
Thousands of women who undergo breast asymmetry correction surgery every year are able to benefit from the following:

Improved appearance of the breasts 

Balanced nipples, areola, and other breast irregularities 

Improved self-confidence 

Alleviated emotional distress 

Increased comfort fitting into bras and other clothing  
Dr. Rahul Vemula has helped scores of New Jersey women acquire the proportional measurements that they have always wanted, as well as gain a self-confidence boost. You too can benefit from his expertise.
Can I combine breast asymmetry correction with other procedures?
It may be possible to combine this procedure with other surgeries depending on your overall health and personal goals. Dr. Vemula will discuss all the possibilities available to you during your initial consultation at V Plastic Surgery.
What is recovery like after breast asymmetry correction?
It is not uncommon to experience a degree of bruising, swelling, and soreness following this surgery. Your surgeon will provide pain medication to help increase your comfort level. Dr. Vemula will ask that you take a lot of rest and avoid lifting heavy objects or engaging in strenuous activities until after you get the green light from him. The surgeon will also provide other precise instructions to help make recovery as smooth as possible.
Can fat grafting be used for this procedure?
Yes. Dr. Vemula can use autologous fat grafting techniques to achieve moderate increases in the size of the smaller breast. Patients need to have sufficient extra fat in other areas of the body such as the hips, belly, thighs, or flanks in order to be good candidates for this option.
Schedule your Asymmetry Correction Consultation in New Jersey
Working with a highly qualified, certified, and experienced plastic surgeon can greatly improve your chances of obtaining satisfactory results with this procedure. Dr. Rahul Vemula is double board certified by the American Board of Plastic Surgery and the American Board of Surgery. Dr. Vemula is also a member of the New Jersey Society of Plastic Surgeons, Fellow of the American College of Surgeons (FACS), and an active member in good standing with the American Society of Plastic Surgeons (ASPS). 
To learn more about the best breast asymmetry correction Monmouth County has to offer, get in touch with Dr. Vemula's office at V Plastic Surgery.