Mommy Makeover Monmouth County
Mommy Makeovers in Monmouth County, Jersey Shore, and West Long Branch NJ
Pregnancy and childbirth are undeniably fulfilling and graceful experiences that women go through. However, they can completely change a woman's physique. Once completed with childbrearing some women seek out plastic surgery in order to obtain a pre pregnancy contour.  Many women from Monmouth County areas such as Long Branch, West Long Branch, Eatontown, Rumson, Fairhaven, and Redbank as well as surrounding Jersey Shore areas such as Brick, Toms River, Ocean County, Middlesex County, Central New Jersey, and New York City have sought out Dr. Vemula for mommy makeovers.  A mommy makeover is the procedure of choice to help restore your shape and appearance so you can regain your confidence and fit more attractively in your clothes. 
Dr. Rahul Vemula, a Monmouth County and Jersey Shore plastic surgeon, has helped countless women improve the appearance of their breasts, as well as the size of their waist and belly for a beautiful figure. Dr. Vemula also offers this procedure to women from Ocean County and surrounding New Jersey areas. Dr. Vemula is dedicated to delivering beautiful results while not compromising care and professionalism that should be expected from a double board certified plastic surgeon.
Monmouth County Mommy Makeover Candidates
After pregnancy, many women seek out a pre pregnancy body contour. You may be an ideal candidate for a Mommy Makeover if you:
Want to add volume to deflated, saggy, and asymmetrical  breasts

Have loose and weak abdominal muscles after birth

Want to get rid of localized pockets of skin and fat around your buttocks, thighs, back, or hips

Have completed childbearing

Have waited for a year since giving birth 

Have a stable weight
During your initial consultation with Dr. Vemula, the surgeon will examine your problem areas and check your medical history to determine whether this procedure is for you. This first visit is also a good opportunity to ask the surgeon any questions you may have, as well as share your concerns and expectations for this procedure.
Mommy Makeover Surgical Options
A Mommy Makeover utilizes multiple individual procedures to address all your problem areas and give you the attractive figure that you desire. Dr. Vemula will help you choose the right procedure combination to suit your needs:
Tummy Tuck

– This is the primary procedure done that restores the shape of your abdomen by tightening muscles, removing excess fat, and contouring the waist.

Breast Lift

–

The size of your breasts will increase during pregnancy and nursing. Once women stop breastfeeding, the size of the breasts return to the pre-pregnancy size. However, often times, there will be excess skin and malposition of the nipple. This deflated appearance of the breasts can be improved with surgery. 

Liposuction

– Liposuction helps women who find it hard to lose excess fat even after dieting and exercising.  This procedure gets rid of stubborn fat around your hips, thighs, back.

Face treatments

– Although not typically part of a mommy makeover, facial and facelift procedures will help give you a youthful appearance of your face and neck. This is done by tightening sagging tissues around your eyelids, neck, eyebrows, and cheeks.  
WE WOULD LOVE TO HEAR FROM YOU
Why Choose Dr. Vemula for Your
Mommy Makeover
Monmouth County plastic surgeon – Dr. Vemula – is dedicated to giving his patients the best possible outcome while minimizing the risk of complications. During treatment, the surgeon will make calculated decisions depending on your body type for the best healing and less conspicuous scarring. Dr. Vemula has performed numerous successful Mommy Makeover procedures in Jersey Shore, Monmouth County, Ocean County, and surrounding New Jersey areas.
Planning Your Mommy Makeover in Monmouth County
A mommy makeover is typically an outpatient surgery performed under general anesthesia. This procedure is performed in state of the art accredited facilities supported by a board-certified anesthesiologist and a highly skilled nursing team. Depending on the number of individual procedures you'll be receiving, you may need to stay at the hospital overnight  so the surgeon and his team can observe you. Make prior arrangements for someone to drive you home and help out with chores over the first few days following treatment. 
The surgeon will prescribe various pain medication and antibiotics to help alleviate discomfort and prevent infections, respectively. Special bandages will be applied to help in healing and contouring your body. Most patients return to their normal activities within 3-4 weeks and are fully recovered by 6 weeks depending on the extent of the procedure. Dr. Vemula will ask you to refrain from strenuous activities until after he gives you the green light. 
The cost of this treatment depends on your unique anatomy and the number of exact procedures performed. Dr. Vemula's office will provide you with a cost estimate during your initial consultation at V Plastic Surgery.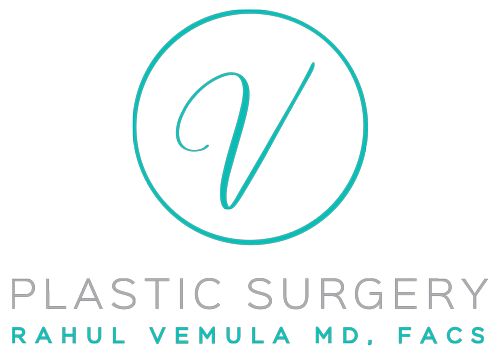 Mommy Makeover Cost
The cost of this treatment depends on your unique anatomy and the number of exact procedures performed.
Mommy Makeover Recovery
Most patients are able to recover from a mommy makeover within 2-4 weeks depending on the extent of the procedure.
Surgery Time
The surgery time depends on your unique anatomy and the number of procedures performed.
Gallery
Look at our Before & After Gallery to see the amazing results that Dr. Vemula consistently delivers for his patients.
EXPLORE
Can I get pregnant after a Mommy Makeover?
Dr. Vemula recommends that women who want a mommy makeover be certain that they have finished childbearing because a pregnancy may negate the results. Getting pregnant after surgery would mean may lead to an "undoing" of the surgery and which would require further surgery to correct. During your initial consultation at V Plastic Surgery, let Dr. Vemula know if you are planning to have another pregnancy.
Are the scars large and visible?
A highly trained plastic surgeon, such as Dr. Vemula, will always make incisions that are well hidden to ensure that women regain their confidence without having to worry about scars. However, the number of incisions made depends on the number and type of procedures performed. Remember that every person heals differently so people may have conspicuous scars while others may have less visible scarring. Make sure to discuss any concerns related to scarring with Dr. Vemula during your initial consultation.
Can I include other cosmetic procedures during my Mommy Makeover?
Yes, you can encompass multiple procedures in your mommy makeover. The primary purpose of this treatment is to all or most of your problem areas such as buttocks, breasts, hips, abdomen, and back. Dr. Vemula will help you choose the best procedure combination to give you the youthful and contoured body that you desire.
Are all the procedures done at the same time?
How Dr. Vemula performs a mommy makeover depends on the extent of your procedure. Most of the time all procedures are done at the same time. If you are expected to have more surgical procedures, Dr. Vemula may perform specific treatments, allow them to heal, and then have you come back for the remaining procedure(s). This is so because performing too many procedures at the same time may take a toll on your body.
Schedule Your Treatment in New Jersey
Dr. Vemula is a highly experienced and qualified plastic surgeon in New Jersey who is focused on giving women the best outcome with a Mommy Makeover. To learn more about the best Mommy Makeover Jersey Shore has to offer, get in touch with Dr. Vemula's office at V Plastic Surgery.