Facelift Monmouth County
Lipo in Monmouth County, Jersey Shore, and West Long Branch, NJ
Liposuction is one of the best cosmetic procedures for getting rid of excess fat and creating a beautiful, sculpted contour. Because it is a versatile option, liposuction can help address specific body areas that do not respond to exercise or weight loss. Surgeons use a suction device to remove excess fat cells from particular body areas such as the upper arms, buttocks, and chin. This way, they are able to give patients a sleek, sexy, and natural shape without exposing them to the dangers of invasive open surgery. 
Dr. Rahul Vemula – a double board-certified plastic surgeon – has extensive experience giving patients their desired figure through liposuction cosmetic treatment. He uses the latest lipo-sculpting techniques and equipment to achieve profound results for his clientele. Dr. Vemula works with patients from the Monmouth County areas of West Long Branch, Eatontown, Fairhaven, Rumson and Redbank. Some of his patients also travel from neighboring New Jersey regions of Jersey Shore and Ocean County.
Ideal Candidate for Liposuction in Monmouth County
You may be an ideal candidate for this procedure if you unsuccessfully tried to tone (through diet and exercise) areas of the body such as:
Chin 

Upper arms 

Buttocks 

Hips

Thighs 

Knees 

Back

Abdomen

Mons Pubis 

Ankles and calves 
It's important to note that while liposuction can offer profound body sculpting benefits, it is not a massive weight loss procedure. The ideal liposuction candidate should be within 15 pounds of their ideal weight and should feel confident about maintaining this weight through exercise and diet after the procedure. Liposuction treatment also does not restore skin elasticity and is best suited for individuals with great skin health.
Liposuction Procedure Benefits 
Liposuction is one of the most popular cosmetic treatments because it offers a multitude of unique benefits:
Long-Lasting Targeted Fat Reduction

– Fat cells removed through liposuction do not come back, however, the remaining fat cells can enlarge. With a proper diet and exercise routine, many patients are able to maintain the results of this treatment. 

Minimal Procedure Time

– Although this is still a surgical procedure, it entails very small incisions that are used to access unwanted fat. The procedure time is brief and recovery duration is prompt compared to other cosmetic surgeries. 

Harvested Fat may be Reused

– Fat removed from one area of the body through liposuction may be reused to enhance another area. For instance, fat removed from the abdomen may be used to improve the appearance of breasts for fat transfer breast augmentation, Brazilian butt lift or the face through a nonsurgical technique known as fat injection. 

Effective Contouring Technique

– Liposuction happens to be a highly versatile technique for correcting bulges and smoothing areas of the chin, hips, neck, thighs, flanks, back, mons pubis abdomen, and arms.

 
WE WOULD LOVE TO HEAR FROM YOU
How Liposuction is Performed
Liposuction cosmetic surgery literally 'sucks out the fat' from various troublesome areas. The surgeon starts by identifying and then marking the problem areas where excess fat needs to be removed. The procedure may be performed under general anesthesia or intravenous sedation to make the patient feel comfortable. Dr. Vemula will make thin incisions and then insert a hollow tube known as the cannula. Once fat is dislodged and broken down into smaller segments, it's suctioned out by the same device. The duration of the procedure depends on how much fat needs to be removed, and how many body parts are being addressed. For large volume liposuction, one of the key side effects of this treatment is excess skin left where the fat once was. Your surgeon may recommend a subsequent procedure to address this concern.
Planning your Liposuction in New Jersey
The cost of liposuction in New Jersey can vary widely depending on the needs of each patient. Because there are so many areas patients want lipo, such as hips, stomach, chin, arms, legs, buttocks, mons pubis, and more, the cost can vary greatly. The price may significantly shoot up if liposuction is being performed together with another procedure for procedures such as fat transfer breast augmentation or Brazilian butt lift (BBL). Since this is considered to be an elective cosmetic treatment, insurance does not cover the cost of lipo in New Jersey. 
Dr. Vemula performs liposuction at an accredited facility with an ultra-modern operating room and is supported by a full-time anesthesiologist and highly experienced staff nurses.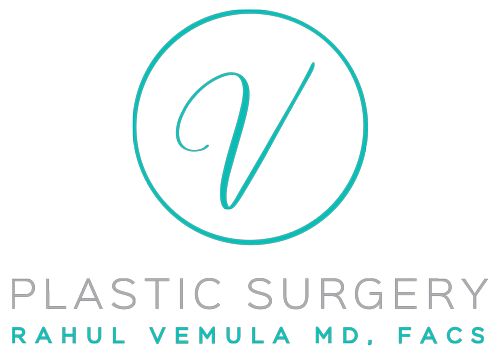 Liposuction Cost
The cost of liposuction can vary widely depending on the needs of each patient and insurance does not cover the cost of lipo in New Jersey. 
Liposuction Recovery
Dr. Vemula is able to address between 3 and 4 trouble areas in a single liposuction treatment. If additional surgeries are required to address further areas, then they can be done within 48 hours.
Surgery Time
Most liposuction treatments are completed within 45 minutes to 2 ½ hours.
Gallery
Look at our Before & After Gallery to see the amazing results that Dr. Vemula consistently delivers for his patients.
EXPLORE
Who is not a good candidate for liposuction?
You may not be a good candidate for liposuction treatment if you are overweight. Dr. Vemula recommends that overweight patients first lose weight through exercise and dieting before the procedure is used to achieve fine-tuned sculpting.
How many problem areas can be addressed?
Monmouth County plastic surgeon – Dr. Vemula – is able to address between 3 and 4 trouble areas in a single liposuction treatment. If additional surgeries are required to address further areas, then they can be done within 48 hours.
Will liposuction tighten skin?
The goal of liposculpting is to get rid of excess fat in problem areas. This procedure does not address any drooping or sagging skin that is left behind. Dr. Vemula has other surgical options available for sagging skin.
Is liposuction a safe procedure?
Just like any other surgery, liposuction treatment comes with its fair share of risks. Patients need a highly skilled surgeon to minimize these risks while attaining the desired results. Dr. Vemula is a highly recognized liposuction surgeon not just in West Long Branch but also in other Monmouth County and surrounding New Jersey areas. He uses the latest techniques and makes safety a priority for all of his patients.
How long does liposuction surgery take?
Most liposuction treatments are completed within 45 minutes to 2 ½ hours. The particular length of the procedure will depend on the extensiveness of the fat removal.
Schedule Your Liposuction in NJ
If you would like to learn more about the best liposuction Monmouth County has to offer, get in touch with Dr. Vemula's office. Your initial consultation at the V Plastic Surgery is the first step towards getting the well-contoured, shapely figure you desire. Dr. Vemula understands that each patient's needs are different and works diligently to create a personalized treatment plan that works best for you.
DESIGN & MARKETING BY POSITION RESULTS
OFFICE HOURS
MON-THURS: 9 - 5
FRIDAY:  9 - 3
Accessibility: If you are vision-impaired or have another type of impairment covered by the Americans with Disabilities Act or another law and you wish to discuss potential accommodations related to using this website, please contact our Accessibility Manager at (732) 963-0809.
V Plastic Surgery of Monmouth County, NJ has provided this website for informational purposes only.  This website does not constitute formal medical advice.  Please contact our office to schedule your plastic surgery consultation to further discuss your medical needs. Serving Monmouth County, Jersey Shore, and West Long Branch, NJ.