Arm Lift Monmouth County
Excess Arm Skin Removal in Jersey Shore and Monmouth County NJ
Due to aging, dramatic weight loss or other reasons, men or women may develop excess skin or laxity on the upper arms. In situations where these changes do not respond to diet or exercise, arm lift surgery can help you achieve the sleeker arm contour that you desire. This cosmetic procedure – also referred to as Brachioplasty – entails re-sculpting the arm tissue and removing excess skin. 
Monmouth County board certified plastic surgeon, Dr. Rahul Vemula has helped countless men and women improve the appearance of loose, saggy-looking arms with arm lift surgery. Dr. Vemula – a double board-certified surgeon –  works with patients from Monmouth County areas such as Long Branch, West Long Branch, Eatontown, Rumson, Fairhaven, and Redbank. Many of his patients also travel from surrounding Jersey Shore areas such as Brick, Toms River, Ocean County, Middlesex county, Central New Jersey , and New York City.
Jersey Shore Arm Lift Candidates
Brachioplasty is the procedure of choice for individuals who are looking to tone their upper arms. You may be an ideal candidate for this treatment if you:
Are not happy with the appearance of your upper arms

Have stretch marks on the arm

Have 'wings' in the underarm areas that you would like to get rid of

Have sagging arms (maybe due to significant weight loss or aging) whose appearance you'd like to improve 
During your initial consultation with Dr. Vemula, the surgeon will listen to your concerns, examine your arms, and take your medical history in order to determine whether this procedure is for you. This initial visit is also a good opportunity to ask any questions you may have about this treatment.
Different Types of Arm Lift
When it comes to receiving Brachioplasty, one important consideration is understanding what type of arm list is best suited for you. Based on what is required to attain your desired results, Dr. Vemula will help you choose the right procedure option from the following:

Upper Arm Lift – this is the most common type of arm lift that is best suited for correcting excess skin that droops like a bat wing, from the armpit to the elbow. 
Mini Arm Lift – also referred to as a limited arm lift, this procedure type is designed for patients who have minor corrections to their upper arms. Individuals who have lost a moderate amount of weight as a result of dieting or exercising can benefit from a mini arm lift. 
Extended Brachioplasty – this is a comprehensive procedure that alters the entire circumference of the arm. It is best suited for individuals who have excess loose skin as a result of dramatic weight loss. 
Short Scar Brachioplasty – this is a proper procedure option for patients who have mild upper arm tissue laxity and are not willing to have an extended Brachioplasty. 
L-Arm Lift – this is a somewhat new Brachioplasty technique designed to get rid of excess tissue from the upper arms, armpit area and lateral chest. 
WE WOULD LOVE TO HEAR FROM YOU
Arm Lift
Dr. Vemula utilizes the latest surgical techniques to achieve the best possible outcome while minimizing the risk of complications. The surgeon makes an incision either along the inner side of the upper arms or in the armpit. He will then get rid of fatty tissue and excess skin before closing the incisions. Once this phase of the procedure is complete, Dr. Vemula will apply special bandages on your arms to help with recovery. Dr. Vemula is seen by his patients as a committed professional who is dedicated to results. He will evaluate you on an individual basis and create a personalized treatment plan that yields the best results. 
Dr. Vemula performs Brachioplasty at an accredited operating room in NJ, working with a team of highly professional support staff, such as board certified anesthesiologists and experienced operating room nurses.
Planning your Arm Lift in Monmouth County
An arm lift is an outpatient procedure that is usually performed under general anesthesia. You'll need to make arrangements for someone to drive you home after the procedure, as well as have a responsible adult to help out with household tasks over the first 48-72 hours following surgery.  It's common to experience swelling, bruising, and some level of discomfort over the first couple of days after surgery. West Long Branch arm lift surgeon Dr. Vemula will provide pain medication to ease the discomfort. Many of his patients are able to go back to work in a week or two. Full recovery takes place in 4-6 weeks. However, you should wait until you get the go-ahead from the surgeon before engaging in exercise or other strenuous activities.
The cost of Brachioplasty in New Jersey is influenced by the extensiveness of the procedure, the surgeon fees, anesthesiologist fees, and facility fees. Due to different anatomies of patients, an arm lift cost in NJ can vary from patient to patient. Health insurance typically does not cover this treatment because it is considered to be an elective cosmetic procedure and not a medical necessity.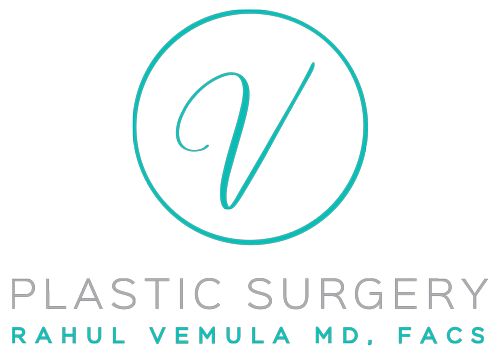 Arm Lift Cost
The cost varies and is influenced by the extensiveness of the procedure, the surgeon fees, anesthesiologist fees, and facility fees.
Arm Lift Recovery
Patients are able to go back to work in a week or two. Full recovery takes place in 4-6 weeks.
Gallery
Look at our Before & After Gallery to see the amazing results that Dr. Vemula consistently delivers for his patients.
EXPLORE
Arm lift vs liposuction
Liposuction is a cosmetic procedure used to get rid of stubborn fat in upper arms and other problem areas. This treatment method, however, does not address skin laxity concerns. Even if you receive liposuction to tone your arms, you'd still need arm lift surgery to correct laxity issues and tighten the skin for a well-toned, pleasing outcome.
Is an arm lift permanent?
The results of Brachioplasty are usually long-lasting. In order to maintain your results for as long as possible, it's important to adhere to a healthy diet and exercise regimen. Keep in mind that substantial weight fluctuation can reverse some of the results of this procedure. Your skin will also naturally lose some firmness with aging, which can cause a degree of sagging over time and you may need additional procedures to maintain your arm lift in the future. 
Can Brachioplasty be combined with other procedures?
Brachioplasty may be performed as an independent procedure or combined with other treatments such as tummy tuck, liposuction, or a breast lift in order to attain comprehensive benefits. Be sure to let Dr. Vemula know if you'd like to address other trouble areas at the same time as the arm lift surgery.
Should I lose weight before undergoing arm lift surgery?
It may be necessary to lose some weight before you receive Brachioplasty treatment. Dr. Vemula recommends that patients be near their ideal weight before they choose to undergo arm lift surgery.
Schedule your Arm Lift in NJ
To get the best results from your Brachioplasty, it is important that you work with a highly-skilled, experienced plastic surgeon. Dr. Vemula has successfully worked with scores of arm lift patients, not just in Monmouth County, but nearby New Jersey areas as well. To learn more about the best arm lift surgery that Monmouth County has to offer, get in touch with Dr. Vemula's office at V Plastic Surgery.